| Useful Services | Equipment and Supplies | Specialty Books | Training | Cool & Fun |
- Please Scroll Down or Use the Links Above -
---
Webmaster's Choices - Free Software, Fully Functional - Must-have Packages!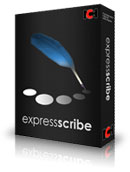 Express Scribe -- (Download Page) Express Scribe is professional audio player software for PC or Mac designed to assist the transcription of audio recordings. It is installed on the typist's computer and can be controlled using a transcription foot pedal or using the keyboard (with 'hot' keys). This computer transcriber application also offers valuable features for typists including variable speed playback, multi-channel control, file management and more. This program is free.
---
The FTR Support Download Section - Free Player Software for Official Court Transcription!
Registering for an FTR download account provides you with FREE access to FTR Player Plus, FTR Save-to-Format, and WordLink downloads, as well as service packs and version upgrades on these and other FTR products. We do not share your information with third parties. With your approval, we will occasionally contact you by e-mail to notify you about important changes to the site, new services, and special offers. If you would prefer not to receive these notifications, you can indicate that preference when you register, or can modify your account at any time.
---
Download the Free DSS Player Lite - for playing DSS compressed digital audio formats.
---
RealLegal's Free E-Transcript Viewer. Just like with the popular Adobe PDF Viewer, after you have downloaded the E-Transcript Viewer once, you can open any RealLegal E-Transcript file you receive. Great for accessing past transcripts to create wordlists, etc. when scoping or reporting ongoing cases.
This is the same viewer attorneys use to read E-Transcript files received from their court reporters. Scopists - When needed for access to past transcripts, like when you're jumping into ongoing projects.
---
---
---
Over the years, Morson's has emerged as the grammatical cornerstone for professional Court Reporters. This publication is the most widely accepted guide for transcription style in court reporting, and we highly recommend it for scopists and proofreaders supporting multiple clients. You can find a link for used copies from Amazon further down this page, whenever they're available there.

- webmaster

RPM - Specializing in supplies for court reporters, scopists, lawyers & legal industry, steno students and steno teachers.

RGS - Presentation folders, report covers, printing, foil stamping, embossing, die cutting, fold and gluing, converting, folders with metal fasteners and gusset strips.

Steno Machine Supplies, Tapes, Binding Supplies & More!

In over 65 years of manufacturing and providing legal supplies to the business community, Pengad has discovered that dedication is the key to success. Pengad is devoted to providing quality products and service, and we guarantee that every customer will have the personal attention of a professional, highly experienced individual. Our reputation is founded on this philosophy.
Scopists.com's Trade Leads Program - An annual or three-year email subscription for those who wish to start or grow their freelance business, it's a convenient and affordable tool. Once subscribed, you'll receive:
1 - Every employment listing submitted to our Employment Classifieds
2 - All postings through the Discreet Query system, a method for allowing reporters to connect with scopists, proofreaders, etc. without having to place a public listing on the 'net. Since these listings are not public, competition for these positions is generally limited to the Trade Leads subscriber base. We process about as many Discreet Queries as we do our published Employment listings.
An In-depth Look at the Scopist Profession

Scopistry - an In-depth Look at the Scopist Profession - Want to know more about becoming a Scopist? Scopistry is an eBook produced by Scopists.com which has been converted to a FREE mini-web on this site! Scopistry is designed as a primer for prospective scopists and includes an in-depth examination of the position of scopist, work samples, employment and training options. Printed version was 106 pages.

U.S. Career Institute - Legal Transcription/Scopist Diploma.

ScopingCareers.com: (Website Under Construction) Judy Barrett's scoping training course - now celebrating its 20th year of successful operation - features an integrated on-line, video/audio distance-learning program, leading to computerized text editing of transcripts for court reporters. Comprehensive, self-paced lessons are supplemented by close personal mentoring and consultation, during both study and marketing phases. This "tried and true" program provides every needed element to prepare you for success in this most rewarding home-based career, including referrals to court reporters seeking scoping assistance.

To learn more about scoping, read Judy Barrett's article, posted at the top of this web site, or send an e-mail to scoping@primemail.com for that same article and other supplementary materials about her training curriculum.

Best Scoping Techniques (BeST) is a self-paced on-line scopist training program presented by Cathy Watson and Judy Rakocinski that will teach you all the skills necessary to become a successful scopist. Visit the website at www.BestScopingTechniques.com for a tour and detailed information.

Internet Scoping School is the first Internet-based, online scopist training course and has been in existence since 1998. It is not only the most comprehensive training course available, it is also the only scopist training course that actively advertises and provides marketing opportunities for its graduates.

This course offers training in all the essential elements of being a scopist, including notereading, transcript production, marketing, ethics, ergonomics, time management, commonly made mistakes, computer care, Case CATalyst software training, and much more.

Please explore our site to learn more about scoping, and to find out if you possess the aptitude and skills that could make scoping the career for you!
- Cool & Fun -
Stenovations created a great deal of excitement at the mid-year convention in Vancouver by previewing its new steno writer. It was the "talk" of the convention, both during seminars and at social events.
Weighs a mere 1.75 pounds and is 0.75 inches thin. Super-light touch for fast and accurate fingering. Communication via USB or BlueTooth. Steno and Time Stamps saved on removable SD card. Powered by battery or USB.
Physical specifications: Weight, 1.6 pounds; Length, 12 inches; Thickness, .9 inches. Price: $1995
---
MAKE YOUR EXISTING WRITER WIRELESS. TAKE A LOOK AT THE STENOCAST X1-LITHIUM TODAY.
Steno Machine to CAT System Wirelessly! Wireless Realtime Feeds! Security Features!
---